The digital world has made keeping data simple, but it has also introduced new risks, like cyberattacks and the potential loss of information as a result of manmade and natural disasters. Invoices, company finances, employee information, and customer details are just some examples of the sensitive data that modern businesses deal with every day and must secure.
The easiest way to ensure that you never lose critical data is to make copies of it and store it in at another or several other locations, whether they're physical or virtual. The loss of data can have far-reaching consequences, including damage to your reputation and the inability to restore normal operations. 
Businesses typically require a lot of storage space, as well as simple access to their data, and most importantly they need all of that to be secure. It can be quite easy to overlook factors like performance and security, leaving businesses vulnerable to data loss, data tampering, and other threats. All of that is due to the complexity involved in data storage and in selecting the appropriate strategy for your situation. Companies need to work out a strong, reliable backup strategy based on the right technology, which guarantees ease of use and a unified interface. 
1. Selecting the Most Appropriate Method of Data Storage 
The two most frequent methods for storing data used by companies nowadays are in the cloud and on storage devices. Keeping backups on storage devices in a safe, off-site location is a good strategy to ensure that your business data is secure. Sensitive information can be safely stored in several different formats and mediums, including hard copies, encrypted flash drives, offline computers, and other devices. A network-attached storage (NAS) device can also be used for off-site data backups. 
You should also learn what is NAS backup and how it combines the best of both worlds, making this method for storing data one of the most secure options. In a way, it's kind of like having your private cloud at work, only better. By choosing to host your own cloud, you may reap the efficiencies and cost savings of cloud computing without giving up control of your data or any administrative powers. This device can be accessed remotely over the internet by authorized users, and it's great for scalability since it allows you to easily add more devices to the existing network as your needs grow, by simply adding more devices. 
Cloud storage refers to storing data online. The security guaranteed by different cloud service providers varies greatly. Reliable cloud services provide upkeep, management, backup, and access to customers over a network, usually the internet. Data storage on the cloud typically incurs a monthly cost, and more space can be procured on an as-needed basis. 
2. Find the Right Technology for Regular Data Backup
It's clear that businesses can't put all their trust in the staff when it comes to the safety and security of their data, which is why implementing the right data storage technology into your backup strategy is crucial. Keep in mind that human error is one of the most common causes of data loss, so aside from finding the right storage method you should invest in cybersecurity software and use solutions that will automate the backup process.
Hardware solutions like external hard drives and storage appliances are generally quite easy to use, but using backup software is very important because it's versatile and it provides added capabilities. You can specify the systems and data you want to copy, schedule backups to run automatically, and assign storage media to individual categories of data. 
3. Establishing Clear Guidelines for Safe Data Storage 
Nevertheless, to reduce the likelihood of accidents and security breaches you must make sure that all employees are on the same page about how to handle critical company information. Take care of your company's data with ease and efficiency by establishing some standards among the personnel regarding the implementation of security measures to protect the data.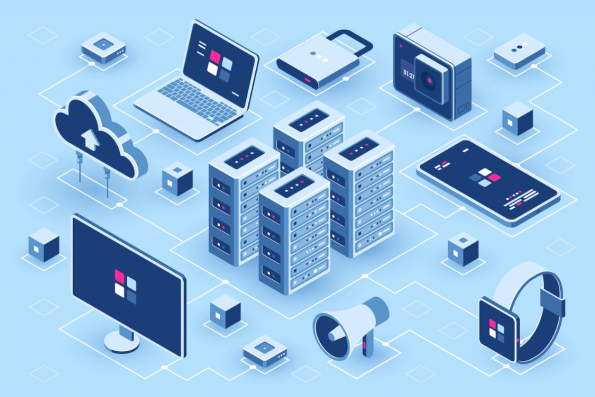 You have to take every precaution to protect the confidentiality of the credentials you use to gain entry to sensitive data. Users should avoid making weak passwords and reusing them across accounts. The company's private data should be encrypted, and passwords should be carefully monitored. Using multi-factor authentication is a great approach to keep prying eyes out of important files.
Conclusion 
Companies need a solid backup strategy in place for backing up and securing their data. Relying on yourself or your employees to keep your data safe, can be just as inefficient and insecure as keeping data only in one place. These simple steps can help you learn how to choose the most appropriate method for backing up your data.